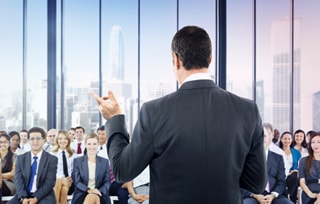 Developing as a Facilitator
What exactly is the difference between a trainer and a facilitator? Think they are the same? To tell you the truth, just like most other people, I was not aware of the difference either before i entered the learning and development space. I actually thought that a Facilitator Development Program was equivalent to a Train the Trainer program!
So let me explain the difference to you. A trainer is one who is well informed about the content that he has to deliver but a facilitator may not be well aware about the content. Confused? I'll explain. Well, facilitating is basically 'making an action easier' and bringing out the learning from it. So, a facilitator is one who helps the participants in assessing the issue and finding out a way to resolve it while point to specific learning outcomes. So a facilitator does not have to be a subject matter expert. He just needs to help the subject matter experts to analyse what wrong and help them reach a solution by facilitating the process.
Facilitation focuses more on the learning aspect of the process rather than focusing on achieving the target. In fact, it is actually about focusing on achieving the objectives from the perspective of a learner.
So a facilitator helps in assessing, planning and guiding in a process by encouraging the group members to participate and contribute their ideas and learn from it during the process. However one thing that the facilitator needs to keep in mind at all points of time that he must carry a non-biased attitude. He must give every member the same opportunity to contribute and should not contribute his own point of view on the situation being discussed, lest he colour the opinions of the members. He is just supposed to facilitate the process of drawing out ideas from the members and bring them to the table, not add his own. Thus a trainer who can facilitate learning engages his audience the most and helps them draw meaning and awareness from activities which they were unable to do in the past.
The FaDP
To facilitate the development of a Trainer into a Facilitator, we are conducting a Facilitator Development program. We call this the FaDP and its going to be held sometime in May in association with Pegasus Institute for Excellence. I am frankly super excited about it and am eagerly waiting for it!!! It's a great opportunity and am so glad that I am going to be a part of it. To be coached by a person of the calibre of Mr. CK Dwarkanath is a true privilege. He has an experience of around 20 years of service with organisations like IISc, DRDO and ILFS. Currently, he is a senior faculty in Pegasus Institute for Excellence and also is the lead for Knowledge management, Research and innovation. He has special interests in subjects like co-creation, faculty readiness in higher education and employability enhancement of students. As a programme architect, he blends in the conceptual detailing of the program with participative action research and has already coached many participants on the same.
FaDP is about learning the facilitation concepts by experiencing the facilitation practices in a simulated environment for developing oneself in the facilitative process. The methodology that is used is simulations, role plays, narrative inquiry, etc.
So why should you join this program when you are already doing well at what you are doing?
To become more effective in your profession by 'learning to train'
To learn concepts and professional practices to make your programs more effective
To learn to evolve as a better facilitator or as a better coach
All you have to have to benefit the most from the program is, is the readiness to 'Know' things (concepts), 'Do' things (practice) and 'Be' (self), the three spheres of learning. The ultimate objective of this program is to enable individuals to 'learn to learn' and to facilitate learning. Mind you, facilitation development is not just limited to Facilitators and trainers. Anyone could be an eligible participant, be it a coach, consultant, leader, manager at any level, teacher, professor, social worker, tutor, etc. So it is an open platform and anyone can be a part of it. In fact, I myself am a novice in the L&D space, but am eagerly looking forward to program. I know it is definitely going to add a lot of value to me not just as an L&D professional but even as an individual. It perfectly falls under our philosophy of ensuring that we also add value to our clients as well as ourselves.
It would therefore be great if you could join us to be a part of this 'beyond the Train the Trainer program!' This developmental program will definitely help you in self-development and become more effective professionally. To know more about the FaDP, you can drop us a mail on info@theyellowspot.info or call us on +91 9769733305. Don't forget to visit our website https://www.theyellowspot.com/ for more information about us and our offerings:)