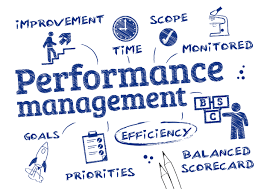 Performance Management Consulting is a 'happening' buzzword in the world of Human Resources. It has changed and is continuously changing the landscape of Performance Management the world over.
Why so? Because Performance Management Consulting is changing how employees and Management tend to look at Performance Management on the whole. And of course how they measure performance and take steps to bring about improvements in oragnisation.
I'm sure you have all been a part of an organisation for some time at least and remember the deadly term 'Performance Appraisal'. What was the image you carried of the term?
Well I have always heard things like its 'unfair' and 'biased'. The 'favourites' always get the best rating and salary hike. It's also a term that has predominantly been used by superiors to scare their subordinates by saying things like "I will see in you in your appraisal!" Hmmm, sounds familiar, doesn't it?
And so Performance Management has been synonymous with Performance Appraisal, the most important yet most threatening term and event of the year for most employees.
And who's changing this definition? Who's broadening the prospective and actually making employees and the Management look up to Performance Management? Performance Management Consulting.
Why so much excitement around Performance Management Consulting?
Because bringing an outsider to check the current Performance Management system has multi-fold benefits and can bring about business success. Let's see how:
The Customised Approach: Performance Management Consulting is being taken up in a large number of organisations which use varied systems and processes for the same. Doing Performance Management Consulting in these different organisations give Consultants some great insights on what works and what does not. Using all their experience, they can then suggest a system that suits your organisation. After all, the 'one size fits all funda' really does not work in Performance Management
The Holistic Approach: As discussed, Performance Management Systems go far beyond Performance Appraisal's. They not only focus on measuring results in terms of numbers but also measure performance through behaviour. Thus they are more holistic in nature and measure the tangible and intangible output of employees
The Growth Oriented Approach: Previously, the responsibility of growth was always the employees, well, responsibility! Things have changed since then. Not only is the employee held accountable for their growth, but it is also the duty of the Manager to coach and mentor the employee to help him/her go to the next level. So Performance Management Consulting now actually helps Managers to pull up their socks and help their team members to pull theirs! I'm sure you have understood why employees are loving it!!!
The Transparent Approach: Another reason why employees are loving Performance Management Consulting is because it's somewhere contributing to making the entire promotion process more transparent. Well defined process and employees are communicated what they need to do to reach the top. Career paths are well defined and the competencies required to get there are stated clearly. Regular feedback and training is received by employees and they know exactly where they currently are and where they have the potential to be. And who doesn't like clarity?
Well these are some of the points that come to my mind when I think of the benefits of Performance Management Consulting. I'm also eager to know what you think. So come on and share your insights. Sharing is one of the best methods to learn and take your performance to the next level!